ABOUT Teb We Bass
It's a medical program specialized in various fields of medicine; it explains health problems and how to deal with them by a group of specialized doctors in a simplified method.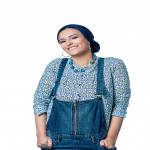 Weam Wagdy
presenter of the show
- Date of Birth : 13 August - Place of birth : Cairo - Education : faculty of Arts french department. - Favorite food : Shrimps - Zodiac Sign : Leo - Interests : Writing & Poems - Favorite Singer : Mohamed Abdel Wahab, Amr Diab.