ABOUT Eid Fe Eid
The program highlights the efforts of civil society institutions in serving citizens and their role in supporting the country to implement development plans.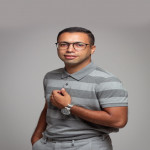 Mohamed Bakr
presenter of the show
- Date of Birth : 12 Feb - Place of birth : Damanhour - Education : Faculty of Arts, department of Archaeology, Greek and Roman Studies. - Favorite food : Grape Vines, Calamari - Zodiac Sign : Aquarius - Interests : : playing tennis, piano, writing poetry - Favorite singer : Mohamed Mounir.