ABOUT Mohamed Bakr
- Date of Birth : 12 Feb  

- Place of birth : Damanhour

- Education  :  Faculty of Arts, department of Archaeology, Greek and Roman Studies.

-  Favorite food : Grape Vines, Calamari

- Zodiac Sign : Aquarius

- Interests : : playing tennis, piano, writing poetry 

- Favorite singer : Mohamed Mounir.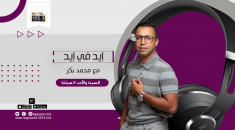 Eid Fe Eid
Presented Show
The program highlights the efforts of civil society institutions in serving citizens and their role in supporting the country to implement development plans..