ABOUT Engy Anwar
- Place of birth : Cairo 

- Education : Faculty of Mass communication, Cairo University.
  
- Favorite quote : "Have courage and be kind". 

- Favorite food :  Pizza

- Zodiac Sign : Gemini

- Interests : Traveling, walking and reading.

- Favorite singer : Abdel Halim.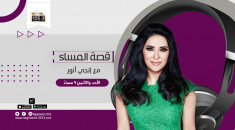 Keseet El Masaa
Presented Show
It's an interactive show from which it discusses social problems, analyses the different types of personality and suggests how to deal with them with the help of professional opinions..